Begin a Medical Assistant NYC A.O.S. Degree Program Today!
The Medical Assistant NYC Associate's Degree program encompasses both administrative and clinical skills, enhancing a graduate's success in the medical field and builds upon the foundation provided in the two medical assistant certificate programs.
Medical Assistant NYC | Associate Degree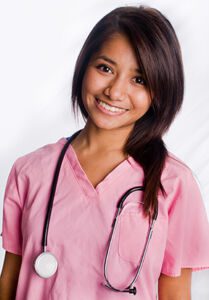 The Medical Assistant NYC – Associate Degree offers advanced training in clinical, technical and administrative areas. Our classes are taught by our qualified instructors in both a traditional classroom setting and through hands-on learning in our clinical labs. As a student at Mildred Elley's medical assistant school NYC, you will also have the opportunity to work alongside doctors, nurses, and patients in our internship component.
Medical Assistant NYC Job Outlook
Students can also benefit from the growing demand for Medical Assistants NYC. Medical Assistants in New York see one of the highest employment levels across the country. In 2017, the state ranked in the top 5 for job-opportunity as an MA (1).
At Mildred Elley our mission is to prepare our students to become career-ready. This is why our medical assisting classes are well-rounded, offering advanced training for entry-level employment in the following areas:
Medical Assistant
Medical Secretary
Laboratory Assistant
Phlebotomist
Medical Records Professional
Medical Assistant Courses
Students in our NYC Metro campus will also have the opportunity to build their medical assistant skills through the following courses:
Medical Terminology
Anatomy & Physiology
Pharmacology
Principles of First Aid, CPR, and AED
Medical Law and Ethics
Biology of the Human Organism
Medical Office Management
Introduction to Patient Care
Principles of Digital Literacy
Specialized Procedures Internship
Medical Insurance
Ready to make a change? Take the first step!
Requesting information requires no obligation or commitments.

Our Program Benefits Include:
Financial Aid & Scholarships for Those Who Qualify
Lifetime Job Placement Assistance
Convenient Location in Lower Manhattan's Financial District
Easy Access to Express Subways and Buses
Flexible School Schedule
Approved for Veterans Education Benefits
Free Career Assessment
International Students Welcome
Lifetime Job Placement Assistance
After graduating from Mildred Elley with a degree or certificate as a Medical Assistant, enjoy our lifetime job placement assistance. Our hopes are to see YOU pursue a rewarding career in the healthcare profession!
(1) http://www.bls.gov/ooh/healthcare/medical-assistants.htm
GOT QUESTIONS?
If you're ready to start your career as a medical assistant, CONTACT US now to begin your training!