The Cosmetology Certificate program in Pittsfield, MA qualifies and prepares its graduates for successful passage of the Commonwealth of Massachusetts Cosmetology licensing examination, administered by the Board of Registration of Cosmetologists, and successful practice in the field of cosmetology and appearance enhancement.
Cosmetology Program
The Cosmetology Certificate program is equivalent to 1,000 clock hours of instruction. Certificate program students are required to complete a minimum of 1,000 hours distributed among fields required by the Board in order to be eligible to register for the Board licensure examination.
Successful Cosmetology Certificate program graduates will be well prepared for licensure examination and subsequent practice through having acquired training in all areas of cosmetology required by the Board, including manicuring, hair straightening and permanent waving, shampooing, finger waving, marcelling and all iron curls, skin care, facial grooming, wig instruction and scalp treatments, dyes and bleaching, hair cutting, hygiene and sterilization, anatomy, physiology, applied sciences, and business practices. An emphasis is placed on preparing Cosmetology program students to work under supervision of experienced cosmetologists, and in the future, for a possible career route as an entrepreneur.
Cosmetology program students are advised that although jobs in the beauty industry are not considered physically demanding, they will find that occupations in the field do require a certain amount of physical stamina. Due to the nature of the fields of cosmetology, prolonged periods of standing, sitting, and bending at the waist will be required. Lifting and periods of manual dexterity will be required in some cases as well.
Employment of hairstylists and cosmetologists is projected to grow 11 percent from 2016 to 2026 according to the United States Bureau of Labor Statistics †, faster than the average for all occupations. Demand for hair coloring, hair straightening, and other advanced hair treatments has risen in recent years, a trend that is expected to continue over the coming decade. Cosmetologists, hairdressers and hairstylists provide beauty services, such as shampooing, haircutting, hair coloring, and styling hair, and massaging and treatment of the scalp.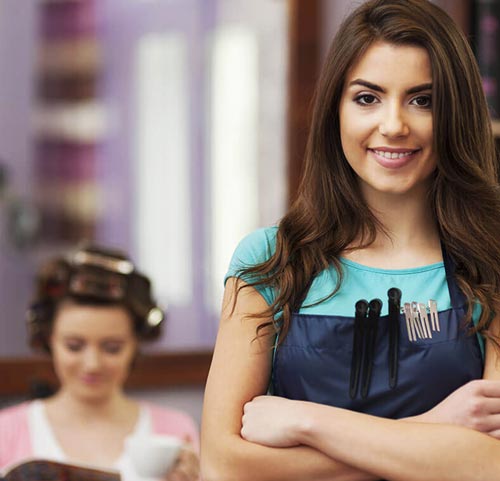 Autumn Leon
Class of 2014
"I always wanted to be a Cosmetologist and Mildred Elley guided me along the way. Working on hair and doing everything that I love is fun. I have a career now and I'm only 20 years old."
Ready to make a change? Take the first step!
Requesting information requires no obligation or commitments.

Cosmetology Program Benefits
Attending Mildred Elley means you not only receive a quality higher education experience, but it also means you get access to the most advanced job training available. Mildred Elley also offers many different benefits for program students.
Financial Aid & Scholarships for Those Who Qualify
Lifetime Job Placement Assistance
Flexible School Schedule
Approved for Veterans Education Benefits
Free Career Assessment
International Students Welcome
† https://www.bls.gov/ooh/personal-care-and-service/barbers-hairstylists-and-cosmetologists.htm#tab-6
GOT QUESTIONS?
If you're ready to start your career in cosmetology, CONTACT US now to begin your training!